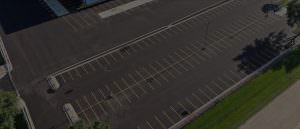 With over two decades of experience, Bel Rock Asphalt Paving can serve the city of Carpentersville with the best parking lot sealcoat in the state. Bel Rock gifts you with a very smooth finished parking lot sealcoat at unbeatable prices while also being able to hold up against the hustle of Carpentersville. The parking lot sealcoating offered at Bel Rock is the toughest sealer on the market, GEM Seal.
Carpentersville Parking Lot Sealcoat
Carpentersville is located in Kane County in the northeastern part of Illinois. Not too far north of Chicago, Carpentersville has a large population of over 36,000 people and continuing to grow. When the residents of Carpentersville want to upgrade either their driveway or commercial parking lot, Bel Rock will be the contractor they are going to want to call.
Carpentersville Parking Lot Sealcoating
Bel Rock offers you a professional quality parking lot sealcoat done by industry standards and exceeding yours each time. Every job we complete in Carpentersville will have an incredibly fresh look, and Bel Rock will guarantee the work. Bel Rock Asphalt Paving is the top parking lot sealcoating contractor serving Carpentersville and Illinois, so call us today to upgrade your pavement.
Carpentersville Parking Lot Sealcoating | Carpentersville Parking Lot Sealcoat