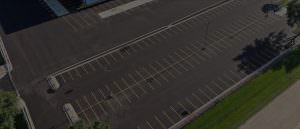 Let Bel Rock Asphalt Paving is the parking lot sealcoat company to handle all your paving needs, from driveways to parking lots! Customers and guests should be safe from damage when parking their cars in your lot or driveway. Bel Rock has been the top parking lot sealcoating contractor in the industry since 2001, and we are excited to serve our Janesville customers.
Janesville Parking Lot Sealcoat
Janesville, Wisconsin, is a city of over 64,500 residents. Janesville is the largest city in Rock County. Our customers are confident that Bel Rock has the parking lot sealcoating to deliver superior services to Janesville. We are proud of the service we consistently deliver, the highest regarded parking lot sealcoat in Northern Illinois.
Janesville Parking Lot Sealcoating
When you trust Bel Rock as your parking lot sealcoating company, you will be providing for your guests as soon as they park their car. Bel Rock has the primary parking lot sealcoat, and we will lay smooth asphalt or pavement. If you want a good-looking parking lot for your Janesville property, call Bel Rock Asphalt Paving to get started!
Janesville Parking Lot Sealcoating | Janesville Parking Lot Sealcoat